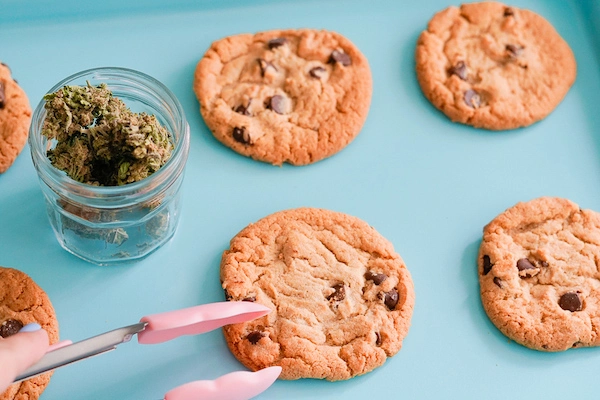 Edibles have become a widely used cuisine, offering many health and recreational benefits. For years they have provided medicinal benefits for individuals worldwide.
There are several edible options licensed by dispensaries. And yet, sometimes, it's fun making your own edibles. For example, you may want to make a classic pot of brownies. It has been on top of cannabis cuisine for several decades!
Many recipes are fun to make and taste delicious too! Here are five popular cannabis recipes for cooking at home.
1. Hash Yogurt
Cannabis frozen yogurt is an excellent dessert you can make using minimal ingredients. The yogurt makes for a tasty way to get high. Enjoy it solo or with a friend! Here's how to whip up your own hash yogurt.
Ingredients:
400ml of ice cream
70 g of sugar
Two saucepans or heating pots
49g of cannabutter
Mixing bowl
Steps:
Simmer the ice cream in the first saucepan under medium heat.
Place the cannabis butter on the second saucepan to melt it.
Pour sugar into the butter in small quantities every short while.
Pour the contents of the two pans into a bowl.
Mix thoroughly until the contents combine into a fine mixture.
Serve the dessert and enjoy.
2. Cannabis Paleo Gummies
Cannabis-infused gummy bears have several health benefits. If you decide not to use real sugar, stevia and other organic sweeteners are good alternatives. However, they are not suitable for children due to their cannabis content.
If you're up for making cannabis-infused gummies, here's a good recipe to try:
Ingredients:
⅓ cup of some water
One tablespoon of lemon juice
Two tablespoons of some honey
Two tablespoons of some cannabis tincture
Two tablespoons of maple syrup or some honey
Two tablespoons of some grass-fed gelatin
Some gummy bear molds
⅔ cup of some pureed fruit (strawberries, blackberries, raspberries, etc.)
One saucepan for heating purposes
Steps:
Combine the lemon juice, fresh fruit,⅓ cup of water, and sweetener in a pan.
Heat the pan at medium-low heat.
Add some cannabis tincture into the combination and gently mix in the grass-fed gelatin.
Continue stirring the contents gently until they form a smooth mixture.
Turn off the heat and use a spoon to fill the gummy bears with the smooth mixture,
Place the filled gummy bears in the freezer for 5-15 minutes.
Carefully remove gummy bears from the mold, serve and enjoy!
3. Weed Chocolate Cake
The weed chocolate cake is a classic dessert and among the most popular consumables in the market. It is easy to cook, and you can include cannabis butter in the ingredients. This is a very tasty recipe you shouldn't pass up on!
Ingredients:
200g dark melting chocolate
200g of cannabutter
200g of sugar
Five eggs
Drops of the vanilla extract
350g wheat flour
Two tablespoons of cocoa powder
One tablespoon of some baking soda
1 cup of some milk
Drops of some lemon juice
Steps:
Preheat the oven up to 180 degrees.
Melt the chocolate slowly in a microwave or heating pan.
Mix the lemon juice and milk.
Combine flour, cocoa, and baking soda in a bowl.
Mix cannabutter and sugar in a blender and add some eggs one at a time as they mix.
Pour the vanilla extract, milk, and chocolate into the flour mixture and stir thoroughly.
Place some butter in the baking dish and the mixture.
Let it bake for 50 minutes before you serve.
4. Cannabis Butter
Cannabis butter is an essential ingredient for most edibles. Therefore, many people make cannabis butter at home for their homemade pastries.
Ingredients:
1 cup of butter, olive oil, or coconut oil
10g of some decarboxylated cannabis
1 cup of water
Cheesecloth or strainer
Heating pot
Flavor and weed grinder
Steps:
Place the butter and water in a saucepan under medium heat.
Grind cannabis with a hand grinder over the two contents of the pan.
Let the contents in the pan simmer for 2-3 hours at about 160 degrees.
Strain the cannabutter through a cheesecloth and place the final product in the refrigerator.
5. Cannabis Ice Cream
Snacking on ice cream alone is a great way to relax. Infusing marijuana with ice cream is a fun way to get high and relax simultaneously! Here's a quick overview of a recipe, but there are many in-depth recipes on the web to enjoy.
Ingredients:
400ml of ice cream
70g of sugar
Two saucepans
Strawberry flavor
A bowl
Steps:
Heat the ice cream in a saucepan to simmer gently.
Place the other pan over some heat and melt the cannabis butter.
Add some sugar to the butter while the butter is melting.
Mix the contents of the two pans to get a cannabis-rich liquid.
Add the strawberry flavor to the bowl and any other fruit mash you prefer.
Mix the contents thoroughly before serving.
Conclusion
Homemade cannabis recipes are among the easiest and quickest desserts to enjoy. These recipes are an excellent way to get high while enjoying your favorite edibles. If you're curious about the pros and cons of edibles, Veriheal gives you the breakdown. If you want to explore even more interesting flavors, consider visiting Zamnesia.com and explore a wide variety of quality cannabis seeds with which you can grow your own cannabis plants and try out even more recipes.
So, start baking and have fun as you discover new recipes that'll quickly become your favorite!