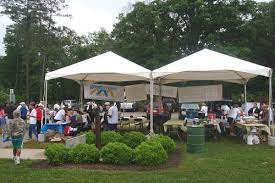 Company events present a great chance for companies to extend their brands beyond online efforts. At these events, businesses can create experiences for their target audiences. More importantly, they can put their brands on center stage at these events. How? By using visual assets to promote the brand. From custom-printed napkins to logos on different types of signages, there are many visual assets for marketers to use.
Of all the visual assets that help brands gain awareness at company events, a customized canopy tent is the best. Canopy tents feature a lot of printing space. The brand logo and other marketing messages can be overwhelmingly displayed on all sides of the custom tents. When event attendees take pictures with the custom canopy tent, they become indirect brand advocates. These perks make custom canopy tents amazing event marketing tools.
Hosting and attending company events continues to be two of the most invaluable ways to engage with target customers. Several local brands host events to raise brand awareness and boost their involvement with the local community. Here's how these businesses use eye-catching custom canopy tents to stand out at these events –
Set the Aesthetic Standard at the Event: Your company's booth or section at the event should be the most appealing. Business leaders can now customize their canopy tents exactly how they want. Is it a tech company? They can print awe-inspiring, high-definition artwork on these tents. Is it a small, local company that's trying to generate leads at the event? Brand leaders can custom print any marketing message on their canopies.
Drive Intimacy Between the Brand and the Attendees: Brand events are the only places companies can build intimate connections with target audiences. Savvy brand leaders drive intimacy with event attendees in various ways. They'll host live demonstrations for specific guests inside the tent. The closed-off nature of canopy tents makes them the ideal tools for creating intimate spaces in crowded events. Brand leaders can even set up small chairs inside these tents. The moments your target audiences spend inside your custom tent are highly precious. From personalized selling to asking attendees about their likes/dislikes – marketers can execute several brand-related activities inside their custom canopy tents.
Take the Center Spot:Taking a central spot at a corporate event instantly gives a brand a huge boost. Brands can expect more attendees to check out their products/services if their booth is conveniently located inside the event space. With custom canopies, brand leaders can create their own center spots. Create a private and separate space for your brand at the company event. Enjoy the 360-degree view of the event location from your tent. Always note who is passing by and who is interacting with your brand from inside these tents.
Target Multiple Events: Custom canopy tents are light, easily portable, and very easy to assemble/disassemble. Brand leaders can easily set up these tents at events. When the event is over, move the tent to a different event. They can even specifically target the more crowded regions of the event space with these easy-to-install custom tents.
Start investing in high-quality canopy tents for your brand now!