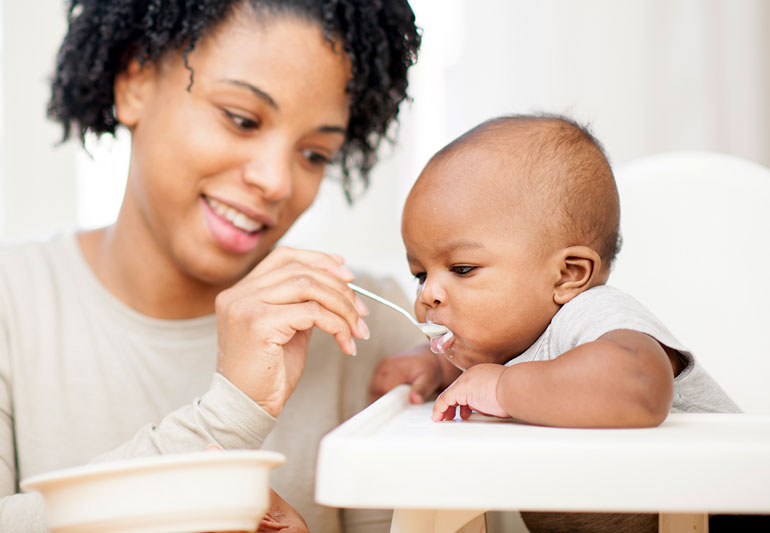 When choosing a high chair for baby, there are so many options that you may feel overwhelmed. Your child is precious, so you want to pick the right one to keep them safe and happy. Read on for a few tips to help you narrow down your options.
Safety First
As a new parent or parent-to-be, you know that the most important thing when choosing any product for your child is how safe it is. Here are a few things you can check for to verify your high chair's safety:
JPMA seal
This seal certifies that a product was tested and approved by the Juvenile Products Manufacturers Association and is one of the safest items on the market.
Seat straps
Most accidents associated with high chairs happen when parents don't use the seat straps properly. Make sure that the high chair you choose has either a three or five-point harness.
Durability
Your baby will use their high chair multiple times every day, and you may even want to use it in the future if you have more children. A few key areas to check for durability are:
Locking mechanisms
If you choose a high chair that folds, you'll want to make sure that the piece that holds the chair in the open position is well made and can stand up to some movement.
Strength
Make sure that the model you choose is sturdy enough to withstand any temper tantrum your little one may throw during mealtimes.
Functionality
Make sure that you can easily get your baby in and out of their high chair. A few options that make that task a breeze include:
Locking wheels
Not only do wheel locks help to keep your child safe, but it's also much easier to get them in and out of their chair if the chair isn't moving around.
Easy tray removal
Ideally, you should choose a model that has a tray that you can detach using one hand.
Portability
If you plan to travel with your baby, you should consider a high chair that you can take along with you. Look for features such as:
Folding
Since folding makes a high chair more compact, it will be easier to get it in and out of your vehicle.
Convertible
If your high chair has the option to be used as a booster chair, you can remove the legs for travelling and attach them to almost any dining chair when you reach your destination.
Ease of assembly
If you plan to assemble the high chair yourself, you should make sure the model you like is easy to put together. A few things to look for include:
Clear instructions
Nothing is more frustrating than buying a product just to find out that the instructions don't make sense. Check the user reviews on the chair you plan to purchase to avoid this struggle.
Pieces included
Another place where reading user reviews can come in handy is finding out how many pieces you need to assemble. If others complain that there are a lot of pieces involved, you can prepare yourself for a lengthy assembly process or choose to hire a handyman to put it together for you.
Comfort
Your baby will probably spend a lot of time in their high chair, so you should make sure they will be comfortable. Some things that can make them more comfortable include:
Padding
Does the seat have adequate padding to keep the baby comfortable?
Footrest
The high chair you choose should have a footrest so that your baby's legs aren't dangling while they eat. Finding a model with an adjustable footrest will help to keep your child comfortable as they grow.
Cleanliness
All babies get messy when they eat, so you should consider a high chair that you can clean easily. A few things that will simplify the cleaning process include:
Washable padding
You want your baby to be comfortable, but having easy-to-clean padding is also important. Look for a chair with vinyl padding that wipes clean or cloth padding that can go in the washing machine.
Tray-in-tray
Instead of having a whole tray that you need to scrub after every meal, you can remove the top tray from the high chair and run it through the dishwasher.
Try it first
Babies aren't one-size-fits-all. Just because a chair worked great for your friend's baby doesn't mean it will work for yours. A few ways you can try out the chair with your child include:
Take baby with you
If you can take your baby with you, they may be able to sit in the floor models at the store. That way, you will be able to see which style is the best fit for them.
Check the return policy
Sometimes, no matter how much research you do, the chair you choose won't be the right fit for your child. In this instance, it will be helpful to pay close attention to the store's return policy so you don't get stuck with a product you don't want.
Author's Bio: Lisa Eclesworth is a notable and influential lifestyle writer. She is a mom of two and a successful homemaker. She loves to cook and create beautiful projects with her family. She writes informative and fun articles that her readers love and enjoy. You can directly connect with her on email – [email protected] or visit her website www.lisaeclesworth.com